GENERAL INFO ABOUT THE PROJECT
The project aims to enrich and develop Atalaya trainers' competences in the field of new, innovative approaches of work, dedicated to adult fosterlings and foster parents.
It consists of two intensive, tailor made trainings, dedicated to 2 approaches: 
Forum Theatre is a method to engage people to deal with difficult issues, such as oppression, through the means of drama. It consists of the actors, the audience who are called "spect-actors" and a joker who facilitates the piece. Forum theatre encourages audience, who are also the target group of the subject matter to actively participate to solve problems. We will be taught this method by Finnish organization Risa Production in Helsinki.
"If your shadow could speak" training is a fully interactive, all-in event. During this workshop we will work on our real-life experiences and challenges, getting to know the approach and using the projective method with figurines, developed by Pernille Plantener. The workshop covers following subjects:
• changing of the inner dialogue so that it becomes empathic and constructive
• ways of healing the wounds of previous hurt
• getting to know each voice in one's inner community, befriend the critical voices and hold the hurt parts within with warmth and care
• overcoming fear and moving through current life decisions.
This workshop will be developed by Danish organization BusinessByHeart.
By taking part in this two trainings, the foundation's staff will increase theirs skills and widen knowledge about two innovative approaches. We would use Forum Theater to help parents of foster children to face common problems through drama and then try different solutions in a safe environment with the support of the actors and the facilitator. Another goal for Atalaya stuff is to use Figurines method in supporting others on the journey towards self-acceptance and finding a trusted, ever present ally inside. The approach would be very helpful especially in working with foster parents and legal guardians.

We finished the training in a small, however beautiful Rodvig, under the wings of marvelous Pernille Plantaner, who took us on the journey of feelings, needs and values.
During the "If your shadow could speak" training, we got to know the Internal Family System (IFS) approach and its practical usage in the coaching work. The world of little figurines which may represent each part of human psyche, is a vast area of deep developmental work.
The method could be applied both for simpler subjects, when you actually know what you want to achieve or what you want to explore, maybe resolve a conflict or understand some situation, as well as for more complex issues, when there are more question marks, not-knowing, loss and confusion.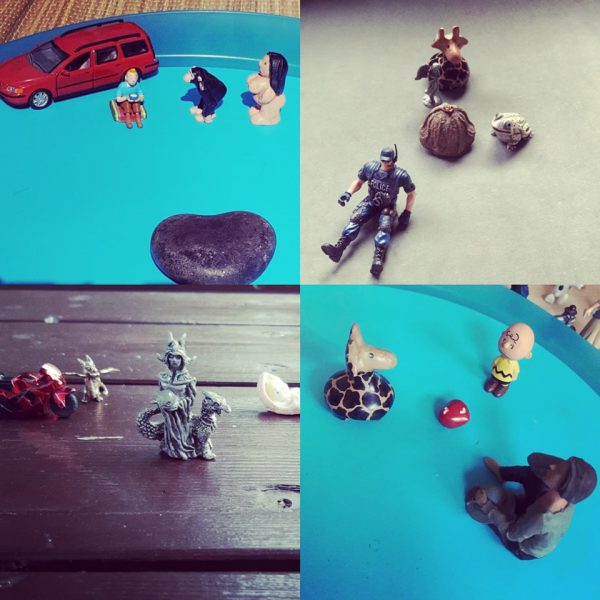 Dowiedz się więcej o naszych wydarzeniach upowszechniających metodę IFS

Behind us is the first trip as part of the "Metaphors of us – Empowering adults in foster care system" project. On April 1, we went to Helsinki to learn the Forum Theater in theory and in practice. We we increased our knowledge and experience from the Erika Eva, who is a director, performer and teacher.
During the training, the introduction to learning the method, were improvisational exercises. This part helped us to build the cohesion of the group, create a safe space to express ourselves and facilitate the entry into the roles of the actors. Then we got to know the theoretical issues of the Forum Theater, which helped us to understand its exact scheme, individual stages of creation, sense and ideas. The next stage was to find a subject within which we created our art in subgroups. We also wrote scripts and created heroes. The main point of the workshop were our performances. We had the opportunity to participate in the Forum Theater both as actresses playing their roles and as an audience.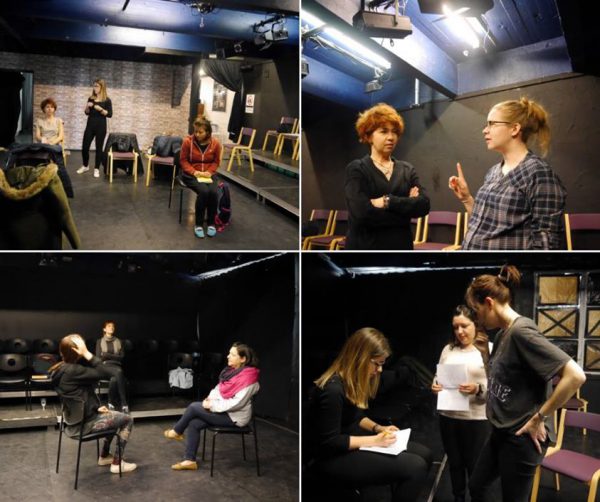 Thanks to this experience, we could see our mistakes, learn lessons for the future. We have found that the Forum Theater is extremely creative and valuable method. This kind of Theater brings many benefits in dialogue between groups, allows for the exchange of points of view, allows entry into roles and mutual understanding. It counteracts exclusion by providing tools for constructive expression and dealing with oppression.
Dowiedz się więcej o naszym wydarzeniu upowszechniającym metodę Teatru Forum
Erika Eva
is a Finnish theatre director, performer and teacher. She holds Master's Degrees from both Theatre Directing (East15, UK) and teaching (Oulu University, Finland). Her credits include directing, devising and teaching theatre across Europe. She is also experienced in improvisation theatre as a performer, director and trainer. Currently she performs with Helsinki – based improv group Himokas Peura. In 2017, Erika founded Ekata Theatre to produce physical theatre that transcends linguistic and national borders. Erika's own style has been compared to the likes of Complicité and Isango Ensemble for her prop-play and transformations.
Pernille Plantener
is a consultant, trainer and coach in companies, families and with individual clients. She has taught courses on communication, coaching and business development. Trained in organic farming and agricultural engineering, Certified Trainer in Nonviolent Communication, Certified Coach at PCC Level, and Mentor Coach. She trained in Internal Family systems, Interpersonal Neurobiology, and Resonant Healing of psychic traumas. Pernille uses figurines to model the multi-facetted nature of the human mind.